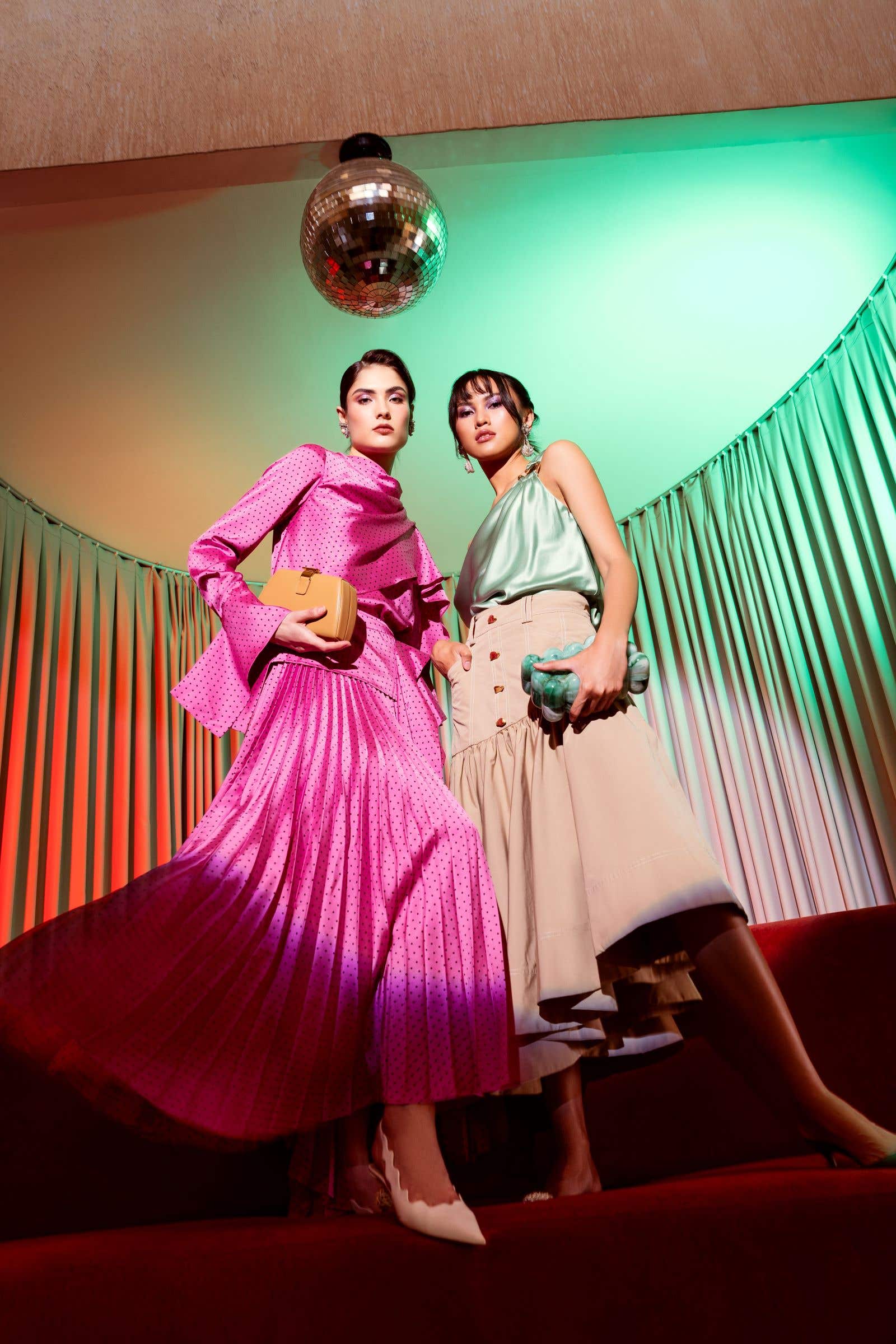 Party Perfect: Outfit Ideas for Every Birthday Dress Code
Photo by Zaky Akbar
November 1, 2023

Looking for outfit inspiration for your next dress code birthday party? Look no further! This article provides outfit combination ideas and tips on how to dress for a birthday party, including following the party theme, considering the location, and more. Perfect for fashion and lifestyle enthusiasts.

How to Dress-up for a Birthday Party
Attending a birthday party is always exciting, but it can also be stressful when it comes to choosing the right outfit. Dress codes can vary from casual to formal, and sometimes there's a specific theme to follow. Here are some tips on how to dress up for a birthday party.
Understanding the Dress Code
Before choosing an outfit, it's essential to understand the dress code. The invitation should indicate the dress code, but if it's not clear, don't hesitate to ask the host. Dress codes can range from casual to formal, and it's essential to follow them to avoid feeling out of place.
Following the Party Theme
If there's a specific theme for the birthday party, it's essential to follow it. For example, if the theme is black and white, choose an attire dress code incorporating those colors. Following the theme shows that you're a team player and adds to the overall fun of the party.
Considering the Location
The party's location is also a crucial factor when choosing an outfit. For an outdoor party, consider wearing comfortable shoes and a dress that the grass stains won't ruin. Wear a dress appropriate for the venue if it's a formal event.
Outfit Ideas for Different Dress Codes
Here are some outfit ideas for different dress codes.
Casual
For a casual dress code, comfort and style are key. Here are some outfit ideas that follow a casual dress code while keeping you comfortable and chic:
1. Flowy Midi Dress with Sandals
Opt for a midi dress that hits below the knee for a more relaxed feel. Look for breathable fabrics like cotton or linen. Pair it with comfortable sandals, and accessorize with a sun hat and simple jewelry for a laid-back yet stylish look.
2. High-Waisted Jeans with a Relaxed-fit Tee
Choose high-waisted jeans in a relaxed fit for extra comfort. Pair them with a loose-fitting graphic tee or a casual blouse. Add sneakers or slip-on shoes for a cool and effortless vibe. Throw on a denim jacket for an extra layer if needed.
3. Jumpsuit with Espadrilles
Instead of sneakers, wear espadrilles or slip-on canvas shoes to give your jumpsuit a more relaxed look. Select a jumpsuit made of soft and breathable fabric for ease of movement. Accessorize with a statement belt and delicate jewelry for a touch of elegance. Remember, the key to a casual dress code is to feel comfortable while looking put together. Don't forget to consider the weather and any specific activities you have planned when choosing your outfit.
Cocktail
For a cocktail dress code, the goal is to look elegant and sophisticated. Here are some outfit ideas that align with the cocktail dress code:
1. Classic Little Black Dress with Statement Accessories
Opt for a timeless little black dress that fits you perfectly. Pair it with statement accessories like a bold necklace or chandelier earrings. Complete the look with high heels and a clutch bag. This classic ensemble exudes sophistication.
2. Bold-Colored Midi Dress with Simple Jewelry
Choose a midi dress in a vibrant color that complements your skin tone. Make sure it's tailored to flatter your figure. Keep the jewelry understated with delicate earrings and a bracelet. Slip into elegant pumps or strappy heels to elevate your look.
3. Printed Mini Dress with Strappy Heels
Select a printed mini dress with a tasteful and eye-catching pattern. Ensure it's well-fitted to enhance your silhouette. Pair the dress with strappy high heels to add a touch of glamor. Keep the accessories minimal, a clutch and stud earrings.

It's important to balance chic and elegant in a cocktail dress code. Your dress and accessories should reflect your style while maintaining a level of sophistication suitable for the occasion.
Formal
For a formal dress code, you want to exude elegance and sophistication. Here are some outfit ideas that adhere to a formal dress code:
1. Floor-length Gown with Classic Accessories
Opt for a stunning floor-length gown in a luxurious fabric like silk, satin, or chiffon. Keep the design elegant and refined, avoiding excessive embellishments. Pair it with a simple clutch and classic jewelry such as diamond or pearl earrings, a necklace, and a bracelet. Consider a sophisticated updo to complete the look.
2. Sleek Midi Dress with Statement Earrings and Bold Lip
Choose a well-tailored midi dress in a rich, solid color. Make sure it has a sleek and sophisticated silhouette. Pair it with statement earrings that add a touch of glamour. Finish the look with a bold lip color and classic heels. This ensemble strikes a balance between modern style and formal sophistication.
3. Tailored Jumpsuit with Elegant Heels and Statement Necklace
Select a tailored jumpsuit in a luxurious fabric like crepe or velvet. Look for a design with clean lines and a flattering fit. Pair it with elegant heels that elongate your legs and a statement necklace to draw attention to the neckline. This outfit choice offers a contemporary twist on formal wear.

Remember that for formal events, attention to detail is crucial. Ensure your attire is well-fitted and polished, and choose accessories that enhance your overall look without overpowering it.
Costume (Follow the Style of a Particular Character)
When dressing up in costume, fully immerse yourself in the character's style and persona. Here are some outfit ideas to help you achieve a convincing look:
1. Accessorize with Props Matching the Character's Style
Emulate the character by incorporating props that align with their personality and storyline. For instance:

If you're going as a pirate, complete the look with an eyepatch, a pirate hat, and a toy sword.
When portraying a superhero, carry props representing their superpowers or the emblem associated with the character.
2. Embrace the Theme with Wigs or Makeup
To truly capture the essence of the character, consider using wigs or makeup to enhance your appearance:

Many characters have distinct hairstyles or makeup. Invest in a wig that mirrors the character's hair or use makeup to recreate their signature look.
For costumes like zombies or fantasy creatures, skillful makeup application can be essential in achieving the desired appearance.
3. Wear a Dress Matching the Character's Outfit and Accessorize with Statement Jewelry
If the character's costume includes a specific outfit, focus on finding or creating a dress that closely resembles their attire. Additionally:

Select a dress that mimics the iconic clothing of characters like princesses or historical figures.
Elevate the authenticity of your costume by adding statement jewelry that complements the character's style. For instance, a crown for a royal character or themed jewelry for a fantasy persona can make a significant impact.
Remember that dressing up in a costume is an opportunity to have fun and fully embrace the character's personality. Attention to detail and accessories is crucial in creating a memorable and convincing costume.
Tips for Accessorizing Your Outfit
Accessorizing your outfit can take it to the next level. Here are some tips:
1. Choosing the Right Shoes
Choose shoes that match the dress code and are comfortable to wear. If you're wearing a floor-length gown, opt for heels that won't get caught in the dress. If you're wearing a casual outfit, opt for sneakers or sandals.

If you want something that can go for comfort and elegance, take Black Mesh Strap Pointed Crystal Heels or Black Leather Mesh Pointed Loafers for more casual.
2. Adding Statement Jewelry
Statement jewelry can elevate any outfit. Choose jewelry that matches the dress code and complements your outfit. For example, if you're wearing a little black dress, opt for statement earrings or a bold necklace.

For recommendation, you can try pairing John Hardy Rata Chain Pendant Necklace and Radial Pavé Drop Earrings for sophisticated and glamorous looks.
3. Carrying a Clutch or Small Purse
Complete your looks with a Black Leather Agatha Envelope Clutch . Carrying a clutch or small purse is practical and adds a touch of elegance to any outfit. Choose a clutch that matches your outfit and is big enough to carry your essentials, such as your phone, keys, and lipstick.

If you want more recommendations and branded items to complete your birthday outfit, we invite you to explore MASARISHOP.COM Whether you're searching for the perfect dress, accessories, or footwear to make your birthday outfit special, we offer a curated selection of high-quality fashion items to suit your style.

Browse our collection and discover various fashion options to help you look and feel your best on your special day. From elegant dresses to stylish accessories, MASARISHOP.COM has you covered. Visit their website today to find the perfect pieces to complete your birthday look and make it a celebration to remember.




The people featured in this story are not associated with MASARISHOP.COM and do not endorse it or the products shown
Written by:
MASARISHOP.COM TEAM
Photographed by:
Zaky Akbar
Date Published:
Nov 1,2023
Date Modified:
Sep 5,2023