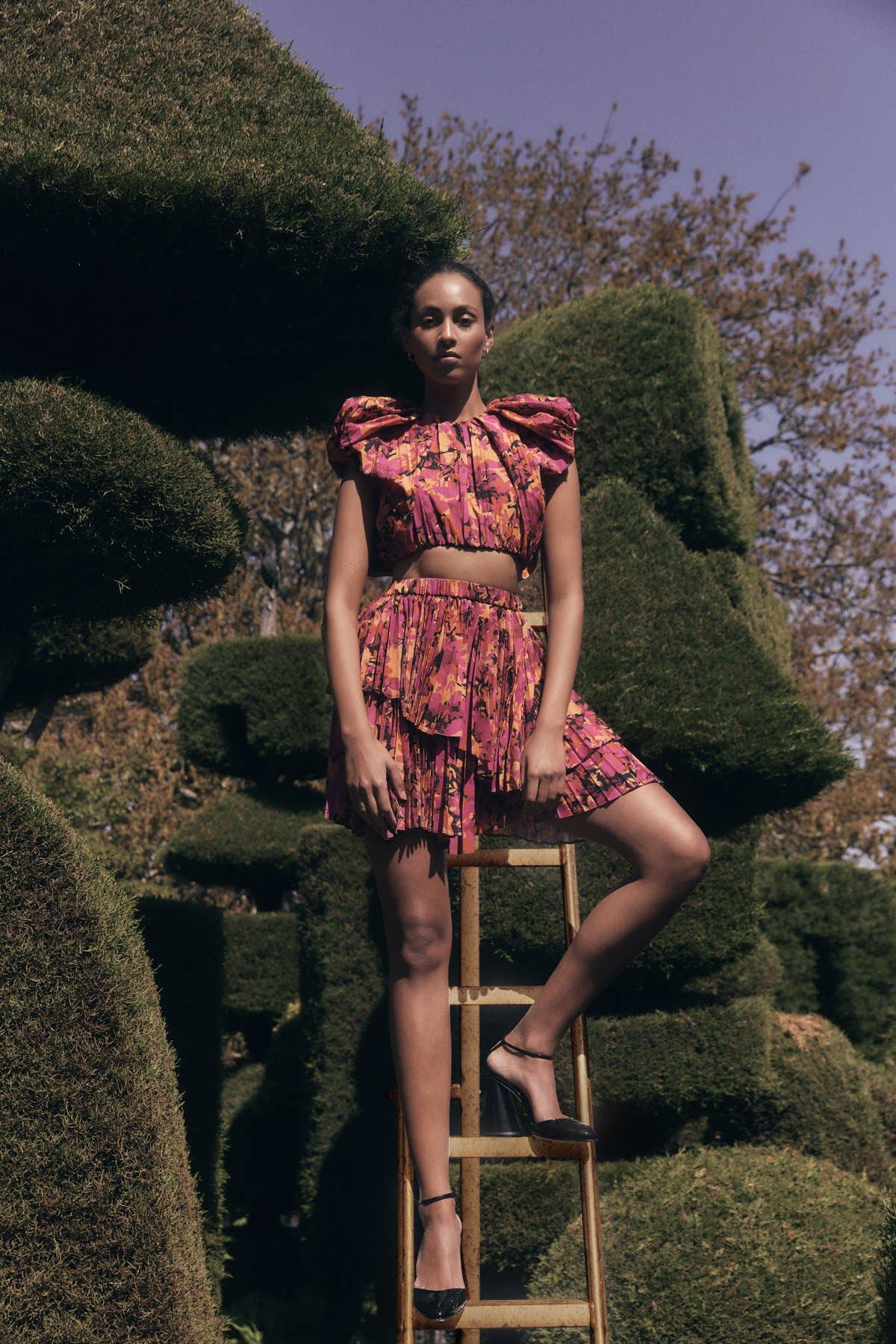 Blossom in Style: Garden Party Outfit Ideas for Fashion Enthusiasts
By MASARISHOP.COM TEAM
October 23, 2023

Masari People, are you searching for the perfect outfit garden party ensemble for your upcoming garden party? Look no further as we unveil splendid outfit ideas that will leave you looking your absolute best. Whether your heart yearns for the timeless charm of a classic white dress or craves the sophistication of a jeans-and-blazer combination, our style guide inspires you.
What to Wear to a Garden Party?
When you find yourself pondering the age-old question of what to wear to your upcoming garden party, it's important to remember that these events are more than mere social gatherings. They serve as canvases upon which you can paint your distinct fashion narrative.

Garden parties offer a stage to express your style, and your choices are a testament to your taste and sophistication. To help you navigate this stylish terrain, we'll explore some essential dos and don'ts, ensuring that you emerge as the epitome of grace and style, leaving a lasting impression on all who attend.
Dos and Don'ts at Garden Party
Garden parties are occasions that require a delicate balance of fashion and comfort. To help you navigate this stylish terrain, here are some dos and don'ts to keep in mind:

Dos:
● Do wear comfortable shoes, as you will be walking on grass. Opt for elegant yet grass-friendly footwear, like flats, sandals, or block heels, to easily stroll through the garden.
● Do wear a hat or sunglasses to protect yourself from the sun. A fashionable hat or pair of chic sunglasses shields you from the sun's rays and adds a touch of glamour to your ensemble.
● Do wear light and breathable fabrics to stay calm. Choose outfits made from breathable fabrics like cotton, linen, or chiffon to keep comfortable in the garden's warm embrace.
● Do wear pastel colors or floral prints to match the garden theme. Embrace the beauty of your surroundings by donning pastel hues or vibrant floral prints that harmonize with the garden's aesthetic.
● Do accessorize with statement jewelry or a clutch. Elevate your garden party look with eye-catching accessories like statement necklaces, elegant earrings, or a tasteful clutch.

Don'ts:
● Don't wear high heels, as they will sink into the grass. While high heels may be a staple in your wardrobe, they are best left behind for garden parties. Choose shoes that won't become entangled in the lawn, ensuring style and comfort.
● Don't wear heavy makeup, as it may melt in the heat. Opt for a light and natural cosmetics that can withstand the outdoor conditions. It will keep you looking fresh throughout the event.
● Don't wear all black, as it may look too formal. Garden parties call for lighter and more vibrant colors. Wearing all black might convey a sense of formality that isn't in sync with the event's relaxed atmosphere.
● Please don't wear anything too revealing, as it may not be appropriate for the dress code. Maintain an aura of sophistication by avoiding overly revealing outfits that may not align with the event's dress code.

9 Garden Party Outfit Ideas
Selecting the perfect outfit garden party is vital when attending a garden party and making a lasting impression. In this guide, we'll explore eight charming garden party outfit ideas to ensure you're dressed to impress.

1. Classic White Dress
A classic white dress is a versatile choice for a garden party. It's adaptable to various occasions and easily dressed up or down. Pair it with a sun hat and comfortable sandals for a more relaxed look. To elevate your style, add statement jewelry and elegant heels to complete the ensemble.

2. Jeans and Blazer
Consider the dynamic combination of jeans and a stylish blazer when aiming for a chic yet comfortable garden party outfit. Select a light-colored blazer to create a vibrant contrast, and pair it with high-waisted jeans for a polished appearance.

Elevate your look by finishing with a statement necklace and fashionable heels, infusing a touch of sophistication into your ensemble. This choice not only exudes style but also ensures you remain at ease, striking the perfect balance for an unforgettable garden party appearance.

3. Maxi Skirts and Top
Maxi skirts and tops offer an exquisite way to exude elegance at your garden party. Picture yourself in a flowing maxi skirt that gracefully trails the ground, paired harmoniously with a tasteful crop top or blouse. This combination seamlessly blends style and comfort, allowing you to move gracefully as you navigate the garden's enchanting setting.

4. Red Dresses
Elevate your garden party style with a bold, striking statement – the red dress. Opt for a dress characterized by its flowing silhouette that allows you to move gracefully and quickly in the garden's enchanting atmosphere. To accentuate the allure of this vibrant color, pair your red dress with neutral accessories. By doing so, you'll ensure that the dress takes center stage, making a powerful and unforgettable impression at the garden party.

5. Floral Prints
Embrace the enduring charm of floral prints, a beloved and timeless choice for garden parties. Choose a dress or skirt adorned with delicate floral patterns that resonate with the garden's natural beauty when opting for this style.

Pair your floral-printed garment with neutral accessories to achieve a beautifully balanced look. This harmonious combination aligns seamlessly with the garden's ambiance and ensures that you radiate elegance and grace at the garden party.

6. Jumpsuits
Jumpsuits are versatile and stylish for garden parties, combining comfort and fashion. When selecting a jumpsuit for your garden soirée, aim for a design with a flowing silhouette that allows you to move gracefully. To elevate your look, don't shy away from statement jewelry that complements the jumpsuit's charm. Pair your jumpsuit with elegant heels to create a chic and comfortable ensemble.

7. Midi Dresses
Midi dresses are the epitome of sophistication and style for garden gatherings. With their hemlines gracefully falling between the knee and ankle, these dresses strike a perfect balance between elegance and comfort. Opt for a midi dress with a flowing silhouette that allows you to move gracefully as you navigate the garden's enchanting setting.

8. Wide-Leg Pants
Wide-leg pants offer effortless adaptability to the garden party atmosphere, whether you desire a dressed-up or more casual appearance. Opt for a pair in a light color and complement them with a flowing blouse and statement jewelry.

This ensemble strikes the perfect balance between chic and comfortable, ensuring you look stylish and feel at ease as you enjoy the garden party ambiance. It's a versatile choice that allows you to embrace the event's charm while radiating an aura of grace and sophistication.

9. Blouse and Skirt Combination
Look no further than the classic blouse and skirt combination for a timeless and elegant ensemble at garden parties. Choose flowing silhouettes that exude grace and sophistication, allowing you to move with poise throughout the garden's charming setting. To complete your polished look, adorn yourself with statement jewelry that complements the outfit's elegance and stylish heels that add a touch of refinement.
Dressing up for a garden party is an opportunity to showcase your style and grace. With the guidance of our dos and don'ts and the plethora of outfit garden party ideas presented, you are well-equipped to make a lasting impression.

As you immerse yourself in the beauty of the outdoors while looking your finest, we encourage you to explore the exquisite collections available at MASARISHOP.COM to discover the perfect attire for your next garden soiree.

You can explore options from renowned brands such as RiaMiranda Signature, Acler, Major Minor, AJE, MSGM, and many more for an extensive collection of these garden party outfits. So, blossom in style, enjoy the moment, and make it a garden party to remember!




The people featured in this story are not associated with MASARISHOP.COM and do not endorse it or the products shown
Written by:
MASARISHOP.COM TEAM
Photographed by:
Acler
Date Published:
October 23,2023
Date Modified:
October 23,2023